Pibgorn, Brooke McEldowney's hit fantasy strip, has found its new home on GoComics! The strip, which tells the story of a fairy's adventures spreading enchantment in a less than enchanted world, will make its GoComics debut May 14th. You can find the full press release here.
Pibgorn has steadily built a large and faithful following since its debut in 2002, and it has long been considered among the most beautifully illustrated and intelligently written comics in syndication. McEldowney is a creator who loves to push the bounds of what kind of stories can be told within the comics medium, to the delight of fans far and wide.
Check out Brooke McEldowney's Pibgorn blog for more info on this exciting GoComics debut.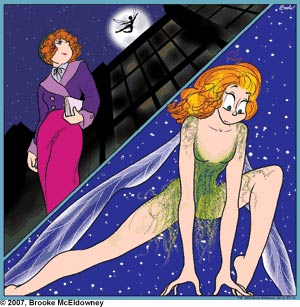 You can have Pibgorn emailed to you daily through GoComics or MyComicsPage. Extensive Pibgorn archives will also soon be available to MyComicsPage members. (Hey, if you aren't a MyComicsPage member yet, don't you think it's about time you were?)