San Diego Comic-Con International 2008 has wrapped, and it was another fantastic convention for GoComics. We had all kinds of fun, whether it was demonstrating comics on mobile phones in our partner booths, giving away free kajeet phones from our own booth, or just walking the floor and meeting fans. To those who stopped by our booth, we enjoyed meeting you and we thank you for your support!
We hosted our 4th mobile comics panel, and once again we came away with a great feeling of excitement over the future of comics on mobile phones. Thanks to all of those who attended the panel and especially to those who contributed to the discussion.
SDCC was also an opportunity to hang out with our partners, folks whose work you've seen or will soon see on the GoComics mobile comic book reader. Among them, comics legend Stan Lee, whose all-new Stripperella comic book series is being developed exclusively for mobile release through GoComics. Below, Lee shares a photo-op with uclick/GoComics CEO Doug Edwards (left) and Vice President of Product Development Jeff Webber (right).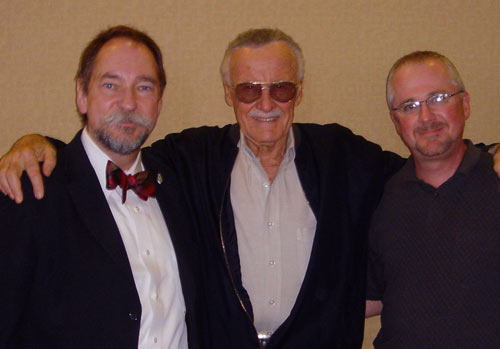 Just in case you weren't able to attend SDCC, here's a photo of the GoComics booth so you can feel like you were there. Pictured are GoComics Producer Shena Wolf and Creative Director Pete Maresca. You may recognize Pete's name from his gigantic, Eisner award-winning labor of love, Little Nemo in Slumberland: So Many Splendid Sundays. The just-released (and slightly more massive) follow-up, Little Nemo in Slumberland: Many More Splendid Sundays, is on display just behind Pete's elbow. Both tomes are available through Sunday Press Books.
Hey, check out this Flickr photo series from TMNT25. Plenty of Comic-Con action featuring the TMNT Street Team. The Turtles are, of course, big stars on the GoComics mobile comic book reader. And look! Who's that, riding around the Gaslamp in a TMNT-themed pedicab? Once again it's Pete Maresca, maker of giant Winsor McCay books. This time he's accompanied by GoComics' Mobile Product Development Manager Harold Sipe, author of the hit Image Comics series Screamland!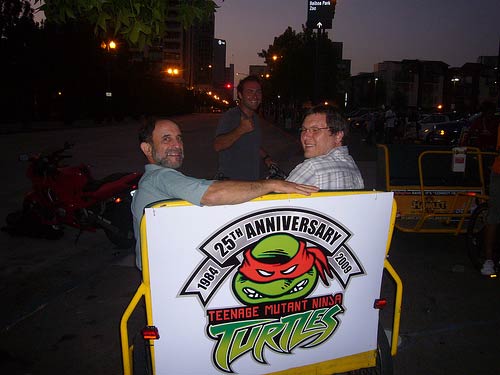 One last photo, this time from the Image Comics booth, where Screamland scribe Harold Sipe and artist Hector Casanova signed copies of everyone's favorite tale of washed-up Hollywood monster-flick stars who band together for one last hurrah on the silver screen. All right, I'll stop plugging Screamland now. Wait - did I mention Screamland will be available in a trade paperback collection on Oct. 29 at fine comic retailers near you? Okay, now I'm done.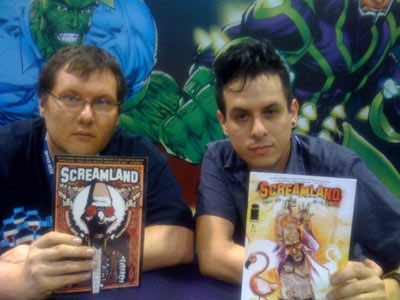 From Doug, Jeff, Shena, Pete, Harold and the rest of the GoComics team, thanks again to all of the GoComics fans who made it out to this year's San Diego Comic-Con. We hope to see you all again next year!