Comic Book Resources has posted an article on the Uclick panel at New York Comic Con last weekend. The panel, which covered our rapidly growing line of comic apps for the iPhone and iPod Touch, included Uclick Creative Director Peter Maresca, President and CEO Douglas Edwards, VP of Product Management Jeff Webber, Comics Producer Shena Wolf and Comicraft President and comics creator Richard Starkings (Starkings' Elephantmen #1 is one of the most recent comics apps to join the Uclick iPhone lineup).
The Uclick lineup for iPhone and iPod Touch includes apps featuring archived collections from hit GoComics titles such as Pibgorn, Basic Instructions and We the Robots, as well as the new Uclick GoComics Web app, which allows users to read recent installments of all of their favorite GoComics strips, panels and editorial cartoons. We also have a large collection of comic books, graphic novels and manga specially formatted for panel-to-panel presentation on the multi-touch screens of the Apple devices.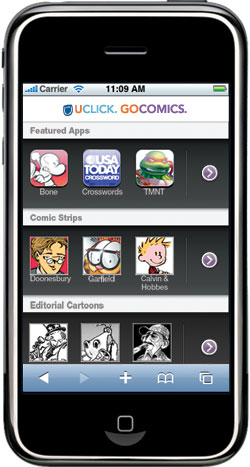 If you own an iPhone or iPod Touch, be sure to check out the entire Uclick lineup - go to Uclick.com on the built-in Safari browser, or visit the App Store on iTunes.