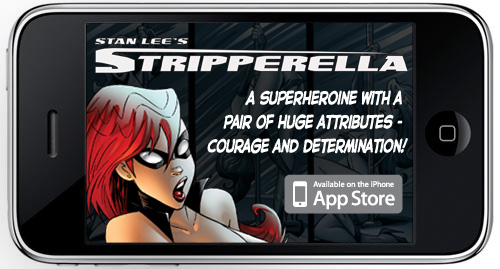 There's a sexy new comic book heroine set to reveal herself exclusively to iPhone and iPod Touch users, and this scantily clad adventurer, with a popular, familiar name, is bringing her exploits to life in this direct-to-iPhone release.

Legendary comic book creator Stan Lee, has created the sultry super-heroine stars in an original four-volume comic book series.
"Some people think Stripperella is merely a far-out fantasy featuring a torrid, whistle-bait pin-up," said Lee. "But thoughtful readers look beneath Stripperella's frivolous façade and recognize a scholarly, psychological analysis of today's complex male/female relationships with cogent commentary within the sophisticated subtext. Congratulations to Universal Uclick and POW! for Stripperella, the perfect cerebral companion for the thinking man."
Go to StripperellaApp.com for more info.