We have a winner in The Argyle Sweater Caption Contest!
The winning caption, hand-picked by cartoonist Scott Hilburn is: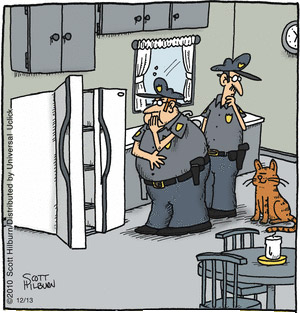 "Finding the rest of Nemo."
Brilliant, isn't it? Congrats to John C. of Selma, CA for giving us all a good laugh and in the process winning the original cartoon, emblazoned with his caption and signed by Scott Hilburn. He'll also receive a signed copy of the very first The Argyle Sweater treasury, Tastes Like Chicken.
The now-captioned cartoon will run in newspapers everywhere in January.
And what about the runners-up? These five funny entries also earned a signed copy of Tastes Like Chicken:
"Most families taped the Family Circus comics to the outside of the refrigerator." (Jeff Yaguda of Cary, NC)
"Just as I thought...opened bottles of Chianti, ricotta crumbs all over, and an empty dessert tray. We finally got him, Bob -- the cat that ate the canoli." (Chad Chesson of Katy, TX)
"The day the Mickey Mouse show was cancelled." (Tess McAvoy of Frisco, TX)
"Hmm, I guess all dogs don't go to heaven." (Jonathan Steinklein of Old Bridge, NJ)
"At a glance, Officer Schmidt realized that the swallows would not be returning to Capistrano." (Daniel B. of Houston, TX)
Big congrats to all of our winners, and thanks to everyone who submitted a caption!